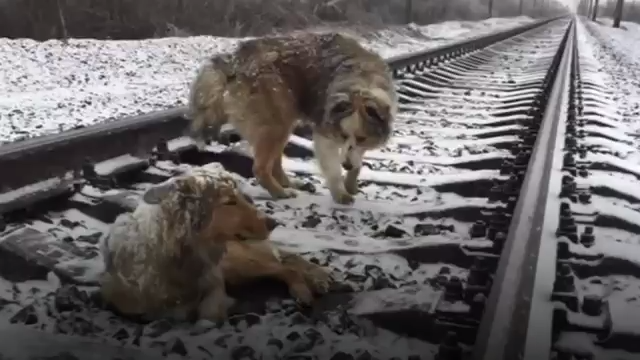 I came across this story while looking for information on something else. I followed their story for several days, but couldn't let it go. It seems appropriate for their story to be the first post of 2017.
Panda and Lucy are sister and brother in what looks to be a very harsh, cold rural environment in the Ukraine near the village of Uzhgorod.
While out doing their rounds at the end of this past year, Lucy somehow got injured while on railroad tracks and was unable to stand up to move off the tracks.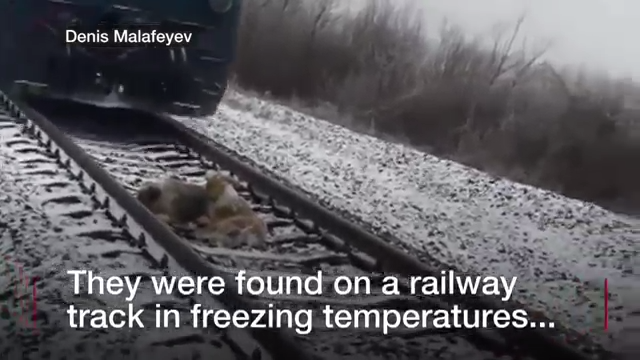 Panda would not leave her – in spite of the bitter cold and the trains thundering overhead every half hour or so.
He stayed with her for two days – doing his best to keep her safe, keeping their heads down when trains approached, and keeping her warm enough to avoid freezing. He would not return home without her.
Panda also wouldn't let any of the several locals who had seen their plight near enough to help. He barked to keep them at bay and maintained his watch over his sister.
Eventually rescuers arrived who were able to get the pair off the tracks and into a car for a trip to the vet. Lucy was badly bruised, but amazingly had no broken bones.
The owners were tracked down and the pair taken home – safe and sound.

Thanks to Time 4 News for making this video available on YouTube.
Final Thoughts.
I think a "happy ending" story is very appropriate for the beginning of another year. After all the events of 2016, we need some optimism and a reset for a better 2017.
Try to imagine what a wonderful world this would be if the humans in it were even one-tenth as loyal, selfless, and devoted as little Panda is to his sister? We can always hope that one day …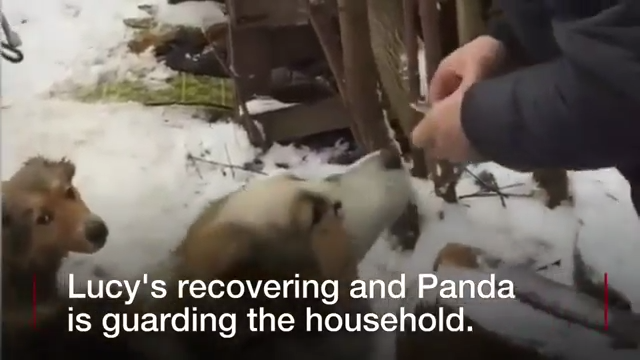 In the meantime, Panda has my vote for doggy hero for this first week in 2017.
And many thanks and a special mention also to Denis Malafeyev, kind-hearted videographer, for his persistence in rescuing the pair.
A special "thank you" to the above-mentioned creatives for making their work available for use. (All photos are from the video footage.)
My sources for this article are listed below for further reading.
Sources/Additional Reading
http://www.mirror.co.uk/news/world-news/brave-dog-stays-injured-pal-9521397 
Like this? Share it!