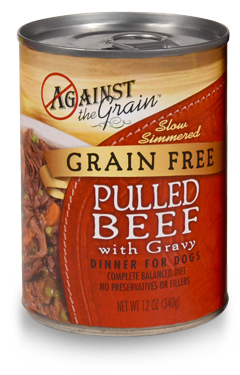 A voluntary recall of one lot of the Against the Grain Pulled Beef with Gravy Dinner for Dogs was announced by Against the Grain (Nutripack, L.L.C.) of Markham, Illinois, on February 14, 2017.
This product was recalled as a precaution due to possible contamination with pentobarbital, an anesthetic agent used for euthanasia of pet animals and horses.
This drug was detected in one lot of a product recalled by Evanger,  sister company of Against the Grain, earlier this month. Evanger's recalled product has resulted in the death of one dog and serious illness and injury to four more.
Effects of pentobarbital.
Pentobarbital can affect animals who ingest it, possibly causing side effects such as drowsiness, dizziness, excitement, loss of balance, nausea, inability to stand, or in extreme cases, even coma and death.
Reported illness or injury?
There are no reported illnesses or injuries as a result of this product.
Product involved in recall.
Although pentobarbital has not yet been detected in Against the Grain's product, they are recalling product manufactured and distributed in 2015 in their facility in Markham, Illinois, as a precautionary measure.
The product recall includes 12-ounce cans of Against the Grain Pulled Beef with Gravy Dinner for Dogs with expiration date December 2019 and lot number 2415EO1ATB12, second half of UPC code 80001 (found on back label).
Distribution of recalled product.
Recalled product was distributed to independent pet retail stores in the states of Washington and Maryland.
What to do?
It has been verified that no product remains on store shelves.
If consumers still have cans with the above lot number, they should not feed them to their dogs. The cans should be returned to their place of purchase for replacement with a full case of Against the Grain food for their inconvenience.
Consumers with questions should contact the company at (800) 288-6796 Monday through Friday between 11:00 a.m. and 04:00 p.m. CST.
My sources for this article are listed below for further reading.
Sources/Additional Reading
http://justsimplydogs.com/02/2017/evangers-hunk-of-beef-au-jus-recall/
www.fda.gov/Safety/Recalls/ucm541692.htm
https://www.dogfoodadvisor.com/dog-food-recall/against-the-grain-dog-food-recall/
Like this? Share it!