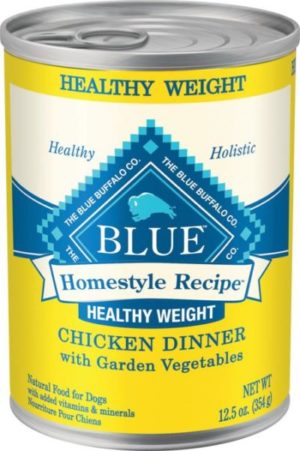 A voluntary recall of specific lots of Blue Buffalo Homestyle Recipe Healthy Weight Chicken Dinner with Garden Vegetables canned dog food, 12.5 ounce cans, was announced by Blue Buffalo Company of Wilton, Connecticut, on February 13, 2017.
This product was recalled as a precaution due to possible aluminum metal contamination.
Reported illness or injury?
Blue Buffalo has not received any reports of illness or injury as a result of the recalled product to date.
Product involved in recall.
The product involved in this recall involves Blue Buffalo Homestyle Recipe Healthy Weight, Chicken Dinner with Garden Vegetables, 12.5 ounce can, with UPC code 8-40243-10017-0 and codes best by date (on the bottom of the can) of 08/03/2019.
No other Blue Buffalo products are involved in this recall.
Distribution of recalled product.
No information has been provided as to the geographic distribution or stores which may have received the recalled product.
What to do?
Anyone who purchased any of the recalled food should stop feeding it and return it to the retailer for a full refund.
If customers have any further questions, they should call (866) 800-2917.
My sources for this article are listed below for further reading.
Sources/Additional Reading
https://www.dogfoodadvisor.com/dog-food-recall/blue-buffalo-dog-food-recall-february-2017/
www.iheartdogs.com/urgent-blue-buffalo-food-recall-must-read/
Like this? Share it!