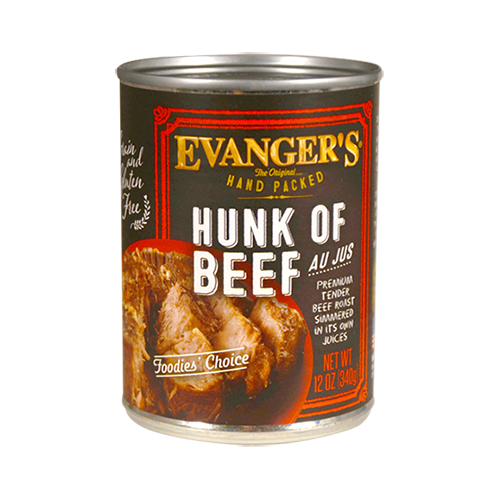 A voluntary recall of several specific lots of its Hunk of Beef product was announced by Evanger's Dog and Cat Food of Wheeling, Illinois, on February 3, 2017.
These products were recalled due to possible contamination with pentobarbital, an anesthetic agent used for euthanasia of pet animals and horses, which was detected in one lot of Hunk of Beef Au Jus.
Effects of pentobarbital.
Pentobarbital can affect animals who ingest it, possibly causing side effects such as drowsiness, dizziness, excitement, loss of balance, nausea, inability to stand, or in extreme cases, coma and even death.
Reported illness or injury?
To date, five dogs who consumed product in lot number 1816E06HB13 immediately became ill, one of whom died.
Product Involved in recall.
Although pentobarbital was detected in a single lot, Evanger is recalling all Hunk of Beef products that were manufactured that same week, manufactured the week of June 6 to June 13, 2016. The supplier involved was used in Hunk of Beef products exclusively and no other products.
The product involved includes the 12-ounce cans of Hunk of Beef Au Jus dog food only, with expiration date June 2020 and lot numbers starting with:
1816E03HB
1816E04HB
1816E06HB
1816E07HB
1816E13HB
The second half of these barcodes (found on the back of the product label) are 20109.
Distribution of recalled product.
Recalled product distributed online and in retail stores to the following states:
Washington
California
Minnesota
Illinois
Indiana
Michigan
Wisconsin
Ohio
Pennsylvania
New York
Massachusetts
Maryland
South Carolina
Georgia
Florida
What to do?
It has been verified that little or no product remains on store shelves.
If consumers still have cans with the above lot numbers, they should not feed it to their dogs. Return them to the place of purchase for a full refund.
Consumers with questions should contact the company at (877) 537-0102 during regular business hours Monday through Friday between 10:00 a.m. to 5:00 p.m. CST.
How did this happen?
Evanger's meat suppliers are all USDA approved. This particular supplier provides beef from animals slaughtered in a USDA facility. Evanger continues to investigate how this substance came to be in their raw material supply.
My sources for this article are listed below for further reading.
Sources/Additional Reading
www.fda.gov/Safety/Recalls/ucm539900.htm
www.foodsafetynews.com/2017/02/sedative-in-dog-food-evangers-issues-recall-after-dog-dies/
www.foodsafetynews.com/2017/02/deadly-barbiturates-preceded-by-9-years-of-pet-food-problems/
https://consumerist.com/2017/02/06/evangers-dog-food-recalled-due-to-contamination-with-euthanasia-drug-wait-what/
Like this? Share it!